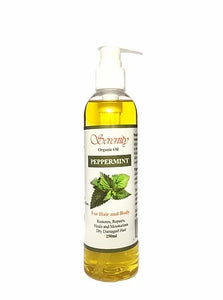 PRODUCT INFO
Serenity Organic Peppermint Oil helps to stimulate hair growth in part to its ability to increase blood circulation to scalp.  Also repairs damaged and over processed hair.
Serenity Peppermint Oil helps to eliminate dryness.  Itchy scalp, dandruff, lice and prevents hair loss.
Excellent for natural and chemically treated hair.
 
INGREDIENTS:  Peppermint Oil, Peppermint Extract, Olive Oil and Essential Oils.
USE:  For daily use apply a generous amount of Serenity Organic Peppermint Oil to hair, scalp and body.  Massage Gently.  Do not rinse out.  For external use only. Stop using if any sign of an allergic reaction.
250ml / 8oz