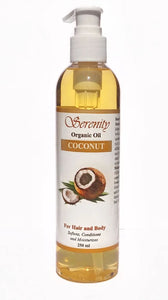 Serenity – Organic Coconut Oil 8oz
Serenity Organic Coconut Oil helps to reduce protein loss in both damaged as well as undamaged hair. Coconut Oil is rich in lauric acid, has a high affinity for hair protein, and easily penetrates inside the hair shaft. It can be used for per-wash or post-wash hair grooming.
Moisture Retention:  Coconut Oil has a high moisture retention capacity which prevents hair breakage and reinforces hair fibers making hair look healthier and stronger. Works well for damaged, dry and over processed hair, split ends and dandruff.
INGREDIENTS:  Coconut Oil, Olive Oil, Shea Oil, Thyme Essential Oil, Rosemary Essential Oil, Chamomile Essential Oil and Sage Essential Oils.
USE:  For daily use apply a generous amount of Serenity Coconut Oil to hair, scalp and body. Massage gently.
250 ml / 8 oz