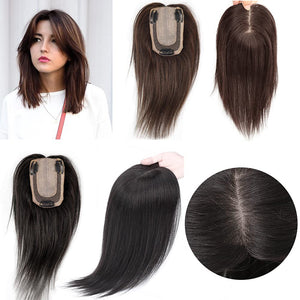 Hair Material: 100% human hair Hair
Texture: Straight Hair
Toppers are suitable for Light to Moderate Hair Loss at the Part or Crown.
If your hair loss area is larger, it is recommended that you choose a lace wig.
Why Choose Top Hairpieces: ·Very easy to wear and easy to remove; ·It will be very natural when you wear it, and nobody will find that you are wearing a topper.
The awesome present for mothers, make our mothers look very young when wear it.
A perfect solution to ·
Add volume ·
Conceal new growth between colors .
Cover the top crown white or thin hair ·
Avoid hurting your own scalp from dying the hair usually · Drive away your cares about hair loss 
How to wear?
Step 1: Clearly identify anterior-posterior direction.
Detangle the hair with a wig comb.
Open all clips on the underside of the topper.
Step 2: Place the front edge of the topper approximately 1-2 inches from the front of your hairline, positioning it over the area of hair loss, and secure the front clip.
Step 3: Place light pressure over the top of the hairpiece and run your fingers over the length of the base to secure the back clip.
Step 4: Style and blend hair as desired.

Length is 14"
Color is natural black