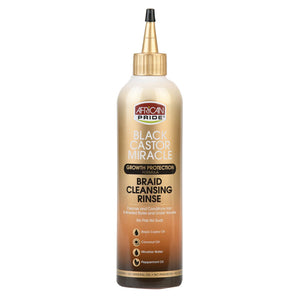 AFRICAN PRIDE BLACK CASTOR MIRACLE BRAID & SCALP CLEANSING RINSE
PRODUCT DESCRIPTION
African Pride Black Castor Miracle Braid & Scalp Cleansing Rinse gently cleanses and conditions hair, edges and scalp during braided styles and under weaves without causing frizz.
Soothes scalp and calms itching; leaving hair refreshed and styles lasting longer.
Great for braids, crochets, edges, under weave care and protective styles.
Directions
Adjust braids or gently lift weave or wig to expose scalp. Position the nozzle to scalp, apply rinse following part-lines. Massage into scalp and hair until clean. Rinse with water. Follow with African Pride Black Castor Miracle Sealing Oil or African Pride Olive Miracle Braid Sheen Spray.
Pro Tip: Apply to a cloth and massage into scalp following part-lines and along hairline until clean. Follow with water.