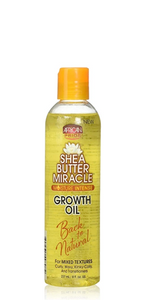 Details
Enriched with Shea Butter, Nature's detangling moisturizer. Helps enhance body, bounce and shine. Regular use of Growth Oil helps strengthen hair deep inside, reduce breakage, dryness and split ends, and hydrates dry hair, scalp and skin. Please note: Contrary to image file, product is 6 oz, NOT 8 oz.
INGREDIENTS
Soybean Oil, Shea Butter, Mango Butter, Olive Oil, Argan Oil, Coconut Oil, Rosemary Extract, Ginseng Extract, Carrot Oil, d-Limonene, Hexyl Cinnamal and more.
USAGE
Apply to dry hair and scalp. Squeeze oil into the palm of your hand. Use fingertips and gently apply directly to scalp and smooth to ends. Excellent when applied lightly before heat styling. A suggestion for natural styling is to apply a light coating to tight curls to add natural shine and moisture control. Using your fingerips, apply a small amount to remoisturize, elongate curls and define curl pattern. Great is applied to hair before blow drying or heat styling to provide greater protection against heat damage, boost shine, and control fizz.

WARNING
Hair burns; keep hair away from open flames, sparks and excessive heat. Avoid contact with eyes. If co