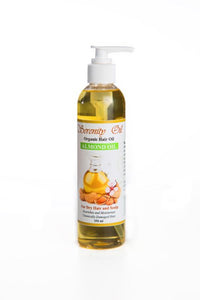 PRODUCT INFO
Serenity Almond Oil is an excellent emollient and is known for its ability to soften and re-condition the scalp. Rich in protein and vitamins A, B1, B2, B6 and E. Extremely nourishing when used regularly. Serenity Almond oil soothes dry and irritated scalp. Used as a Massage Oil too.
INGREDIENTS:  Almond Oil, Olive Oil and Essential Oils.
USE:  Apply the required amount (3 to 4 drops) of the oil into palm. Rub both palms together and apply by spreading to the scalp and hair. Repeat if required. For external use only. Stop using if any sign of an allergic reaction.
250ml / 8oz