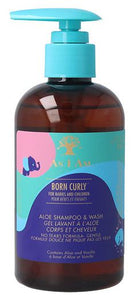 As I Am, Born Curly, Aloe Shampoo & Wash, For Babies and Children, 8 fl oz (240 ml)
Description
No Tears Formula - Gentle
Contains Aloe and Vanilla
For Hair Types 3 & 4
Imparts Shine to Hair, Smoothes and Moisturizes Skin
Moisturizes Dry Scalp
Born Curly® Aloe Shampoo & Wash is perfect for young one's hair, scalp and delicate skin. It effectively cleanses while maintaining natural moisture balance. Gentle enough for daily use. Great for all hair types. Highly recommended for hair that tends to look and feel dry, or when enhanced manageability and balanced hydration is desired.
Suggested use
Bath: Pour a small amount onto warm wet washcloth. Gently cleanse the face and then the body. Rinse well and gently towel blot the skin. Proceed to moisturize with Born Curly® Nourishing Hair & Body Oil, Born Curly® Shea & Cocoa Butter Balm or a combination of the two.
For Babies' With Dry Patchy Scalp: Prior to bathing, massage a small amount onto baby's scalp. Very gently continue massaging scalp with a soft, warm, damp washcloth to loosen dry skin and release flakes. 
Other ingredients
Water, aloe barbadensis leaf juice,disodium cocoamphodipropionate, polyquaternium-10, vanilla planifolia fruit extract, citric acid, phenoxyethanol, caprylyl glycol, sodium benzoate, fragrance.