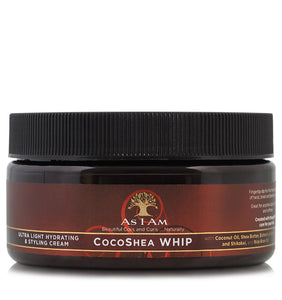 Ultra Light Hydrating & Styling Cream
with Coconut Oil, Shea Butter, Extracts of Alma and Shikakai, and Rice Bran Oil.
A blend of hair's favorite natural emollients and botanicals, whipped to a "just-right light consistency."
Benefits
Frizz-free releasing of twist, bantu-knot and braid sets
Great for anytime lubricity, shine and softness
For styling twist-outs, braid-outs and knot-outs
• Smooth a small amount along each section.
• Carefully release with fingertips lightly coated with CocoShea Whip.
For general use
• Smooth on as needed to soften, hydrate and lubricate.
Tips
After you've done all of that work to twist, bantu knot or braid your hair for definition, you don't want to add frizz as you release the twists, knots or braids now do you? Of course you don't.
• For smooth, shiny twist-outs, knot-outs and braid-outs, the most experienced naturalistas lightly coat their fingertips with oils or butters before releasing their sets. Lubricated fingertips keep the coil and curl assemblies in smooth alignment. The problem with some of these lubricants is that they either just sit on top of the hair, making it a bit oily. Others are rather thick and difficult to melt, making for "drag" as the fingers move down the twist/knot/braid to release it. Frizz and fuzziness can result.
• As I Am® CocoShea Whip is a specially-designed styling cream that is the perfect complement to twist-out, knot-out and braid-out styling. Whether you are 2-strand twisting, flat twisting, braiding or bantu knotting, dipping your pretty little finger tips in this cream is an absolute must! It has slip, gives moisture, adds shine and does not build up.
• It has lots of coconut oil, known as one of the only oils that penetrate the hair fiber, and shea butter, a wonderful natural emollient and sealer. They, along with amla, vegetable glycerin, sugar beet root and other wondrous naturals, are whipped to a nice light consistency. It coats the fingertips lightly and glides smoothly along the hair.
• CocoShea Whip is not only for releasing, it's great for general styling. You can use it to lift and fluff, as you work to get your style "just right", massage a bit onto dry scalp, or on a "whenever" basis for enhanced shine and manageability.
Your hair is going to love it! Mine does!