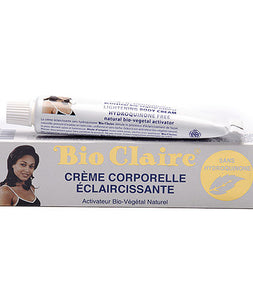 Bio Claire skin lightening tube cream. Non Hydroquinon skin lightener system.
The lightening cream "Bio Claire" without hydroquinone stimulates the lightening process in a natural way, make you complexion clear and even, with no mess. Its Natural Bio-Vegetal activator makes your skin bright and healthy.
Direction: Wash your skin, dry it and mass "Bio Claire", softly. Do not rinse. The first week, repeat application three times a day. Then twice a day. Avoid long sunlight exposure.
Ingredients: Eau, Emulsion Nant, H.V., V.B., I.P.M., Alcohol cetostearylique, Glycerine, M.P.G., Actives Bio-Vegetaux 2%, Parabens, B.H.T, Fragrance, Colorants.