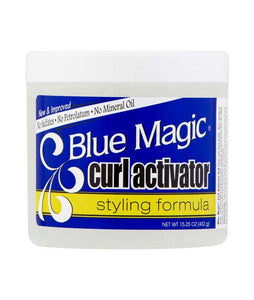 BLUE MAGIC CURL ACTIVATOR STYLING FORMULA 15.25 oz

Blue Magic Curl Activator Gel keeps curls fresh longer. Never greasy or sticky. Clear and light formula shampoos out easily. It's good for your hair, too. Helps moisturize hair and prevent flyaway hair and breakage.

DIRECTIONS
Take a generous dip of Blue Magic Curl Activator Gel and rub it in your hands. Work gel through hair with fingers, massage to distribute evenly. Style hair as desired.