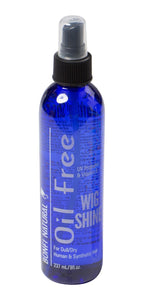 BONFI NATURAL OIL FREE WIG SHINE 8oz

With it's patented-blend of light, complex ingredients, Bonfi Natural Oil Free Wig Shine brings luster and shine to your human and synthetic hair wigs with a "maximum gloss" formula, but WITHOUT a messy buildup.

- Penetrates quickly without a heavy, greasy feel
- Protects hair with built-in sunscreen and a non-drying formula
- Minimizes hair breakage when your hair is dry

Directions
Hold bottle 6-8 inches from your head and spray onto hair evenly. Scrunch hair with fingers or brush and style. This formula is light enough to use daily of often as needed to refresh.