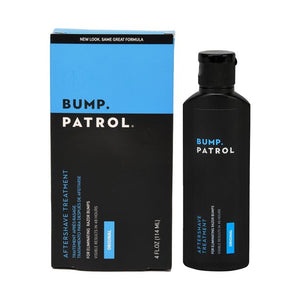 This dermatologist recommended original bump treatment heals and prevents razor bumps. Works great for bald heads and fades.
. Results can be seen in just 48 hours. Heals and prevents razor bumps. Just shave and smooth this product everywhere you shaved
Safety Warning
Do not use if allergic to aspirin.
Ingredients
Isopropyl Alcohol, Ethanol, Acetylsalicylic Acid, Deionized Water (Aqua), Propylene Glycol, Glycerine, Carbomer, PEG-8, Chamomile, Chamomilla Recuita (Matricaria) Flower Extract and FD&C Blue 1 (CI 4290)
Directions
1. Wash your face before shaving, removing all impurities from skin's pores. 2. Rinse, clean and apply shaving cream/gel/foam or hot, soapy water, 3. Shave in the direction of the hair growth. 4. Rinse the shaven area with hot water, apply thin layer of Bump Patrol.
- SKU: MCDS1883
•
Bump Patrol Original Strength After Shave
Helps and Prevents razor bumps
Used for bald heads, fades, faces.
For men and women.