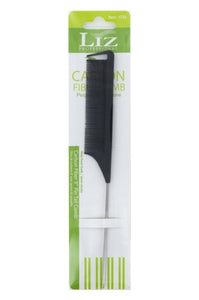 [Magic] Carbon Fiber 9' Pin Tail Comb #1733
CHARACTERISTICS OF OUR CARBON FIBER COMB
•

 
Hardly not slip off your hands because of the round edge
•
 

T
he first teeth makes easy to part your hair
•
 

Round point bottom of the comb is designed to get easy & smooth combing
•
 

The standard rough teeth makes basic & smooth combing
•
 

Following 1/100mm of accuracy
•
The fine teeth helps you to catch a uniform hair and hardly absorbs x-rays while combing.
•
Strong teeth with flexible body and reinforcing function. It is 10mm interval from hole to hole.
• 
The comb is made by super plastic which are heat-resistant up to 220C and has a very 10w termic expension.
Even when you want to comb quickly it will avoid friction so the comb will never peel off your scalp.
•
Easy to have your short hair cut.
•
 

Fit your hands smoothly.