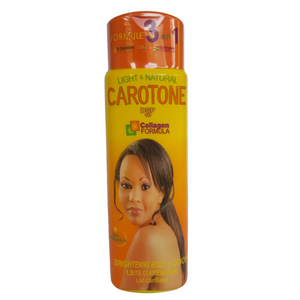 Carotone Body Lotion DSP10 Collagen Formula rich in B-Carotene to lighten your skin and rich in collagen for a younger skin, provides protection against UV and sun rays.
Benefits of Carotone Body Lotion:
The benefits of Carotone Skin Brightening Body Lotion are as follows:
The lotion

 

rejuvenates dull and damaged skin
It gives a uniform texture to the skin

Also, it

 

helps you get

 

brighter skin with its concentrated natural extracts
The result is moisturized skin since the lotion rejuvenates dull skin 
It gives you beautiful, much brighter, and more luminous skin.
It contains Pure Carrot oil works gently and effectively to unify and clarify the skin
The lotion is suitable for all skin type
Ingredients in
Carotone Lotion
:
WATER,CETYL STEARYLIC ALCOHOL,STEARIC ACID, PETROLATUM,MINERAL OIL,ISOPROPYL MYRISTATE,PROPYLPARABEN,BHT,UVA,UVB,TOCOPHERYL ACETATE,POLYSORBATE 60, METHYLPARABEN,SODIUM SULFITE,SODIUM MATEBISULFITE,PROPYLENE GLYCOL,ASCORBIC ACID,ALLANTOIN, COLLAGEN, hq 2%,FRAGRANCE.
How to use

 

Carotone Skin Brightening Body Lotion

:
After the bath, Dispense the body lotion into the palm
Apply it to damp or dry skin as needed.
Massage this brightening body lotion over the entire body until completely absorbed for better results
Use it twice a daily along