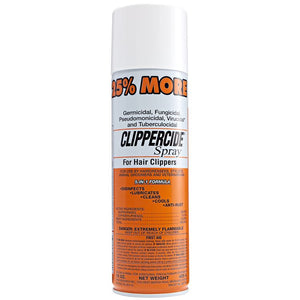 Effective against bacteria viruses and fungus
Disinfects in just 10 minutes
Kills HIV-1 (the AIDS virus) on tools and blades
Reduces friction and guards against rust
Eliminated dirt and grime
Clippercide Disinfectant & Lubricating Spray 
Clippercide® Unsurpassed 5-way protection for hair clipper blades.
Why use 3 different products when one easy to use, economical and proven product will meet all of your needs? For metal hair clippers and implements, this exclusive 5-in-1 formula disinfects, lubricates, cleans, cools and prevents rust in 10 minutes or less! 
Reduces friction and guards against rust helping to prolong clipper life. Use the aerosol sprayer to blow hair and dirt from between clipper teeth cleaning and at the same time cooling the clippers blades.
Disinfects – Complies with OSHA and state board rules. EPA-registered bactericide, fungicide and virucide. Kills HIV-1 and TB.
Lubricates blades – Clippercide leaves a thin film of lubricant that reduces friction and keeps blades sharp.
Cleans – Aerosol spray blows hair, dust and particles from between clipper teeth.
Cools – Aerosol spray cools blades on contact.
Prevents rust – Anti-rust formula protects blades and prolongs clipper life!