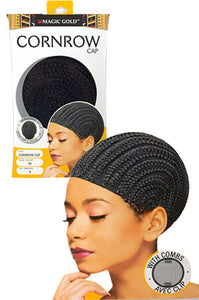 HORSESHOE CAP WITH COMBS in color OFF BLACK with a Small cap size. The breathable cap conforms to your head to provide a secure and comfortable no-slip fit with 2 combs.
The mesh base cap has a horseshoe cornrow pattern. Best used for hair styles with middle and side parts.
Use for crochet, interlocking, sew-in and glue-in weaves and wig units.
End your crochet and weave worries and protect your natural hair. The versatile design allows you to create weave styles and wig units. Lite weight and airy cap molds to your head and secures with 2 combs. The removable and reusable cap is available in Small, Medium and Large Cap Sizes.