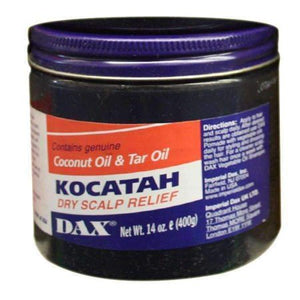 Product Description
Dax Kocatah is one of the products in DAX's versatile hair care range. It is suited for the very dry hair type as the properties present in the constituent elements, namely authentic coconut oil and tar oil, work rigorously to repair dry, weak, and split ended hair from the very roots till the ends. It tames disobedient hair most effectively and with prolonged usage gives a smoother, more even texture to hair that feels coarse and uneven.
Key features:
• Ideal for very dry, damaged, brittle hair.
• Provides deep nourishment and thoroughly repairs hair.
• Adds softness and shine to drab hair.
How to Use
· Apply Dax Kocatah to clean damp or dry hair for shaping, sculpting, and separating 
· Use fingertips to create volume at roots or style hair as desired.