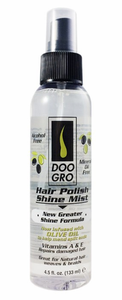 WAVE NOUVEAU TEXTURIZING SYSTEM MOISTURIZING FINISHING MIST 8.5 oz

A texturizing system that effectively transforms and reshapes hair into silky, soft wavy ringlets that look natural and require little maintenance.

Exclusively designed for stylists. By our experts in ethnic hair, research and innovation.
A light spray, the Moisturizing Finishing Mist contains a blend of conditioning agents to provide styling versatility to natural and permanent waved hair.

DIRECTIONS
Hold container 6 to 8 inches from the hair and mist lightly and evenly. Massage thoroughly into hair and style as usual.