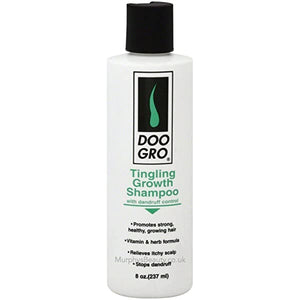 DOO GRO® Tingling Gro Shampoo with flaking control
Size: 10 oz
Description
Promotes Strong, healthy, growing hair*
Vitamin and herb formula
Helps relieve itching
Helps control flaking
Helps promote strong, healthy growing hair. Its unique formula gently cleanses and conditions hair, while it adds strength and returns hair to its natural healthy condition. DOO GRO® Tingling Growth Shampoo with flaking control moisturizes hair and scalp while controlling flaking. Its natural ingredients also control dry, flaky and itchy scalps. Safe to use on hair that is relaxed, curled, natural, dry, overprocessed, breaking or damaged.
Directions: Wet hair thoroughly. Apply shampoo and massage scalp gently while working up a rich lather. Rinse hair and repeat. Towel dry hair and style as usual.
Warning: Hair is flammable. Keep hair away from open flames, lit tobacco products, extreme heat and hot objects. For external use only. Keep out of eyes. If accidentally swallowed, consult physician immediately.