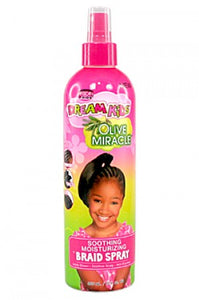 For a lifetime of strong beautifully healthy hair, start right with Olive Miracle African Pride Dream Kids.
Our moisture-rich soothing kids formula contains the finest Extra Virgin Olive Oil and Herbal Extracts used for generations to help strengthen and protect hair. Formulated exclusively for shildrens delicate hair and scalp. Soothing Braid Spray is great for use immediately after creating braid, twist and lock styles.
Use daily for incredible moisture and sheen. Your gentle daily protection to keep her hair strong and beautifully healthy looking. Excellent for braids, twists, locks and natural styles. Regular use helps: Soothes braid tightness Gently soften hair Relieve dryness Boost healthy shine Adds sheen Soothes Scalp How To Use Use as a daily moisturizer on natural styles. Spray onto hair immediately after braiding, twists and locks. Spray scalp, braids and natural style, as needed.