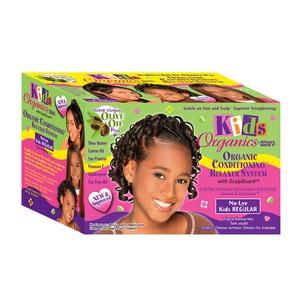 Gentle formula with organic conditioners and moisturizers leave hair healthier and more manageable.
Rebuilds, protects and restores hair's elasticity, softness and shine.
Provides superior straightening for styling versatility
Moms, you told us that you want a relaxer for your daughter's hair that is gentle, non-drying, and beautifully straightens. While keeping the hair healthy and manageable. We're gibing you what you want…plus a whole lot more!
Introducing Kid's Organics by Africa's Best, the first No-Lye Organic Conditioning Relaxer System for girls. using all-natural. organic conditioners kids organics no lye relaxer strengthening and conditions your child's hair throughout the entire relaxing process. The extra gentle formula delivers superior straightening. While helping to repair, rebuild and restore hair's elasticity and softness. Kids organics give hair a lustrous, healthy shine and silky smooth feel. For added protection against breakage or dame. this kit includes scalp Guard Pre-Relaxer protectant. It creates a protective barrier around the scalp, guarding against irritation.