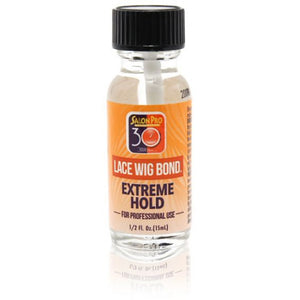 SALON PRO 30 SEC EXTREME HOLD LACE WIG BOND 0.5oz
Professional use only
Easy to apply, Long lasting (2 to 6 weeks),Waterproof
- Prepare the hair for the process.(When using the Skin Protector proceed to application of adhesive).
- Use an alcohol swab to remove oils and make-up from the area around the front hairline from one ear to behind the other ear.
- If a Full Head use the alcohol swab around the entire perimeter of the hairline.
Directions:
- Apply in an upward motion a thin layer of Salon Pro 30 Seconds Extreme Hold Lace Wig Adhesive 1/4 in from the front of the hairline backwards.
- Let dry for 2-5 minutes while adhesive becomes tacky, but not sticky.
- Put the lace netting on the adhesive pressing the bond into the netting until the wig is secuely in place.
- Let dry for 5 minutes before styling.
Ingredients: Acrylic Polymers, Ethyl Acetate, Isopropyl Alcohol