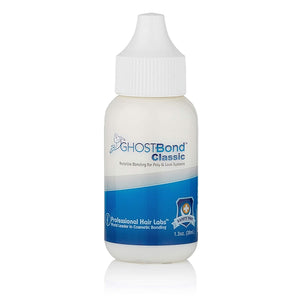 About the product:

LIGHT HOLD:

Specially formulated to use as a pressure sensitive adhesive and glue for bonding hair. The product is researched, manufactured and rigorously tested. Therefore, high quality and exceptional performance and safety are ensured.

INVISIBLE BONDING:

Safe for use on both poly and lace hair replacement systems. It creates an invisible bond after application. This invisible bonding helps to hide your hairline and creates a natural look for your wig or hairpiece for both men and women alike

WATERPROOF AND OIL-RESISTANT:

Peace of mind when wearing a wig or hairpiece comes when you're able to go about your day without worrying about your hair system moving or falling off from natural skin oils or wetness. That's why our hair glue for lace wigs is waterproof and oil resistant to make your hair looks and feels as natural as possible.

CONTAINS NO LATEX, HARSH SOLVENTS OR TOXIC INGREDIENTS:

Designed for those with sensitive skin and scalp. The formula contains no nasty chemicals, no latex and no toxic ingredients. Also, when removing your hairpiece, using a skin-safe adhesive solvent – such as rubbing alcohol – may result in less skin and scalp irritation, as opposed to other harsh remedies.