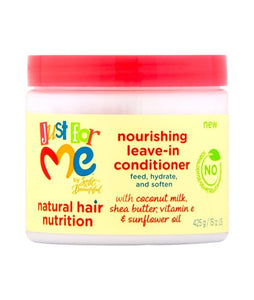 JUST FOR ME NATURAL HAIR NUTRITION NOURISHING LEAVE-IN CONDITIONER 15 oz

Just For Me Natural Hair Nutrition Nourishing Leave-In Conditioner is the perfect daily detangling conditioner to help soften, smooth and hydrate your little curlie's delicate tresses.
- Quick & easy detangling
- Infuses natural conditioners for protection
- Softens frizzy coils & curls

DIRECTIONS
Apply to hair just before detanling to create a silky "slip", allowing a wide-tooth comb to glide through. Can also be used for quick wash-n-go routines.