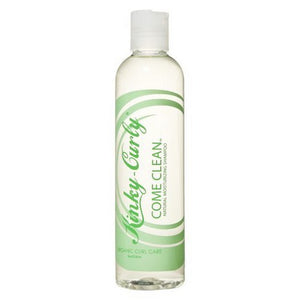 KINKY-CURLY COME CLEAN NATURAL MOISTURIZING SHAMPOO 8oz
STYLING TIPS
1: Shampoo - COME CLEAN
It is very important to REMOVE old product BUILDUP from your hair and start with a CLEAN SLATE. Oils, butters, grease, wax and silicone coat the hair shaft and must be COMPLETELY WASHED OUT. Residue and/or product buildup may cause white film or flakes.
2: Detangle - KNOT TODAY
Apply a generous amount and comb through your hair with a WIDE TOOTH COMB while it is soaking wet with conditioner. On tight curls DO NOT RINSE OUT. On loose curls rinse and leave a little on the ends.
3: Style - CURLING CUSTARD
On tight curls divide hair into SMALL sections and apply to SOAKING WET hair. SMOOTH each section with fingers from the root to the ends of the hair. If a section starts to dry RE-WET with water from a spray bottle. On loose curls hair can be damp and you can scrunch into bigger sections of hair.
ALLOW TO AIR DRY - DO NOT TOUCH - MAY CAUSE FRIZZ
Description
- Sulfate Free, pH Balanced
- Adds Shine and Moisture
- Cruelty Free
You know all the grimy stuff you've put on your hair. Here's your chance to Come Clean. Allow this exclusive blend of organic plant and fruit extracts to gently clean your hair and scalp of dulling buildup while maintaining its proper moisture balance. Perfect enough for everyday use.
Suggested Use
Massage onto wet hair and scalp. Rinse well. Follow with our Knot Today conditioner.
Tip: Oils, butters, silicones, wax and grease must be washed out of your hair before using Kinky-Curly styling products in order to achieve the best results. Products that contain oils, silicones or butter will coat the hair and may result in white residue, flakes or frizzy hair.
Other Ingredients
Purified water, organic mandarin orange fruit, organic marigold flower, organic white willow bark, organic sea kelp, c14-16 olefin sulfonate and cocamidopropyl betaine (coconut derived), phytic acid, citric acid, sea salt, phenoxyethanol and natural fragrance.