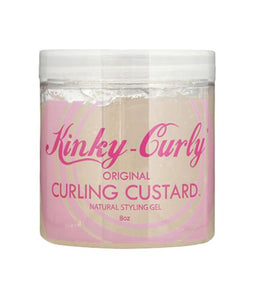 KINKY-CURLY ORIGINAL CURLING CUSTARD NATURAL STYLING GEL 16oz
STYLING TIPS
1: Shampoo - COME CLEAN
It is very important to REMOVE old product BUILDUP from your hair and start with a CLEAN SLATE. Oils, butters, grease, wax and silicone coat the hair shaft and must be COMPLETELY WASHED OUT. Residue and/or product buildup may cause white film or flakes.
2: Detangle - KNOT TODAY
Apply a generous amount and comb through your hair with a WIDE TOOTH COMBwhile it is soaking wet with conditioner. On tight curls DO NOT RINSE OUT. On loose curls rinse and leave a little on the ends.
3: Style - CURLING CUSTARD
On tight curls divide hair into SMALL sections and apply to SOAKING WET hair. SMOOTH each section with fingers from the root to the ends of the hair. If a section starts to dry RE-WET with water from a spray bottle. On loose curls hair can be damp and you can scrunch into bigger sections of hair.
ALLOW TO AIR DRY - DO NOT TOUCH - MAY CAUSE FRIZZ
Description
- Cruelty Free
Instantly transform thick, dry, frizzy hair into silky spirals and wonderful waves. This advanced botanical formula will...
- Eliminate frizz
- Lock in moisture
- Define curls
- Provide long lasting hold
- Give brilliant shine
Used regularly, Curling Custard will help maintain your hair's moisture balance and reduce breakage resulting in longer healthier hair.
This high performance product is formulated with all-natural ingredients and will not change the natural texture of your hair.
Suggested Use
Wash and condition hair. Remove tangles from hair with a wide tooth comb while conditioner is still in hair. Rinse and apply to wet hair. Using a towel will cause frizz.
Thick Coarse Curls: Hair must be dripping wet. Divide hair into small sections. Comb, brush or rake into each section. Use a spray bottle to re-wet any dry sections. Smooth with fingers from root to tip to lengthen your curls & "reduce the poof"
Loose Wavy Curls: Apply to damp or wet hair. Scrunch into medium sections of hair. Flip head upside down to create more volume and body.
Tip: To achieve ultimate curl definition and length, Knot Today may be used as a leave-in conditioner before applying Curling Custard.
Other Ingredients
Botanical infusion of water, horsetail, chamomile, nettle and marshmall