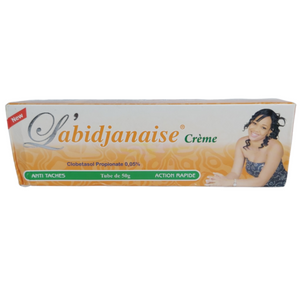 L'abidjanaise carrot is a lightening cream which repairs,helps your skin rid off resistant dark spots caused by ageing, sun exposure. Its special formula offers you a light texture rich in variety beauty benefits before and after is really impressive
it is highly effective for the appropriate skin tone
The lotion is a good moisturizer.
Labijanaise creme is known for exfoliation use due to the presence of the aha acid's in them, that is why it is not advisable to use the tub cream with a strong soap or any other acidic creams. The lotion works best when mixed with the lightening oil has this helps to shed the skin faster and boost the effectiveness of the cream which is by making the hydroquinone to penetrate better into the skin. Unlike other skin lightening cremes, it is definately advisable to mix the lotion the oil to see a good result. One should be expecting a pale brown skin tone to start setting in , in as little as 3 weeks of use. The use of Maxi peel during the initial stage of use is also recommended just like any other lightening cream regimen
The active in tube cremes (lemon,cocoa and carrot cream) is: Clobetasol Propionate
Labidjanaise contains vitamin E
For external use only, keep away from children.
Store in cool dry places. Away from light temperature lower than 35°C
Discontinue use if irritation occurs.