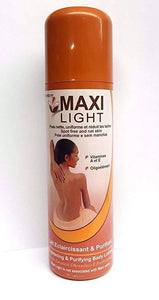 Properties: fragrant body lotion MAXI LIGHT is an important element of a new generation of purifying and lightening care. It clarifies, unifies and rids your skin of brown spots. Its antiperspirant action reduces the corporal scents and imparts a pleasant fragrance. MAXI LIGHT is easy to apply and penetrates easily into your skin.
The beauty complex contains:
vitamin A (to smooth and soften your skin)
vitamin E (to rejuvenate and protect your skin against sun's UV)
fruits acids, rich in trace element (cleans your skin, exfoliates the dead cells and reduces brown spots. Your complexion is soft and illuminated).