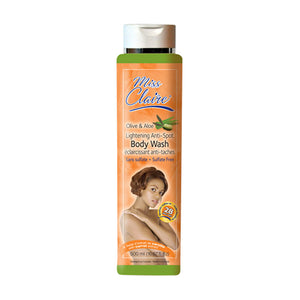 Miss Claire Anti-Spot Brightening Body Wash is composed of quickly help your skin look brighter, supple, and satin-smooth. It deeply cleans your skin from excessive oil and impurities while fighting microbes and bacteria.
The natural apricot kernels based exfoliants gently clean and remove dead cells from your skin
Contains natural active ingredients especially designed for a quick and effective action against
dark spots and hyper pigmentation of dark and mixed skins. Enriched with B-carotene,
antioxidants and emollients for a brighter, smoother, silky and evenly toned skin.
Helps protect skin from free radicals and environmental stress
Keeps skin moist without feeling greasy
Appearance of youthful and healthy skin, which remains radiant throughout the day.
Visible results in 28 days
For all skin types.