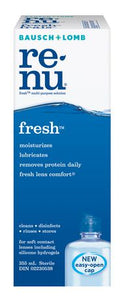 Renu® fresh™ multi-purpose solution is specially formulated to work with your natural tears. Experience the feeling of wearing a fresh pair of lenses cushioned in moisture. renu® fresh™ is proven to fight germs, clean lenses, and remove irritating protein deposits daily from your soft contact lenses. Daily use of renu® fresh™ multi-purpose solution eliminates the need for a separate enzymatic cleaner or daily cleaner for many lens wearers—consult your health care professional.
To clean, disinfect and remove protein complete these simple steps:
STEP 1: Thoroughly rinse each side of the lens (5 seconds).
STEP 2: Place cleaned contact lens in the lens case and fill with fresh renu® fresh™ multi-purpose solution. Soak at least four (4) hours.