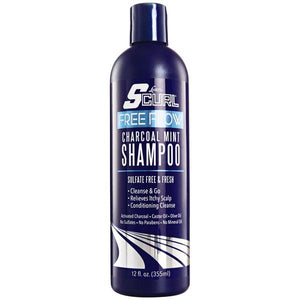 Luster's Scurl Free Flow Charcoal Mint Shampoo is sulfate free formulation to restore and relaxes scalp, while preventing dryness.
Sulfate-Free formula revives and calms the scalp, while combating dryness.

Detoxifying 
Deep Cleanse
Moisture Balance 
DIRECTIONS:
Wet hair thoroughly. Apply shampoo and massage into a lather. Rinse thoroughly. Repeat. 
INGREDIENTS:
ACTIVATED CHARCOAL HELPS TO DEEP CLEAN THE HAIR AND SCALP, REMOVING TOXINS AND CALMING IRRITATED SCALPS.

INFUSED WITH CASTOR & OLIVE OILS FOR THEIR RESPECTIVE HEALING & NOURISHING PROPERTIES.