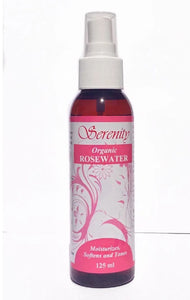 Serenity – Rosewater 4oz
Serenity Rosewater is an alcohol-free, soothing toner proven to significantly hydrate and refresh the skin.  Rose Water has anti-inflammatory properties that can reduce acne and eczema.  Helps to reduce fade scars, hydrates and softens skin.  Excellent for reducing or preventing the appearance of wrinkles.  Leaves skin looking radiant, sparkling and smooth.  Rosewater is a versatile ingredient, excellent for body sprays or added to any of body care products.
INGREDIENTS:   Pure Rose Water (Rose Damascena).  100% natural hydrosol from distillation of rose flower.
USE: Apply a generously to the face and body using a cotton ball or a vaporizer after washing and throughout the day to hydrate skin.  Do not rinse.
125ml / 4oz