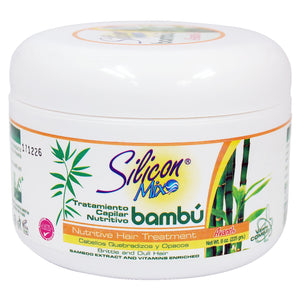 SILICON MIX BAMBU NUTRITIVE HAIR TREATMENT 8oz

Silicon Mix Bambu Nutritive Hair Treatment contains bamboo extract, a natural product to regenerate and nourish the hair and silicones to smooth and give shine. Prevents hair breakage and split ends. Contains vitamins A, E, F, H (Biotin), H Pro-Vitamin B5 (Panthenol), H8 (Inositol) and Horse Chestnut Extract improve the health and beauty of the hair, helping it to grow longer.

HOW TO USE:
Wash hair and apply with massages. Leave on 3 or more minutes depending on the condition of the hair. Rinse.