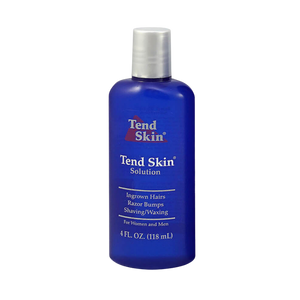 About this item
MADE IN USA - INGROWN HAIR SOLUTION: Applying a thin coat of Tend Skin Solution post shaving and waxing reduces the appearance of ingrown hair, razor bump also known as pfb

POST SHAVING or WAXING, WOMEN and MEN: Use Tend Skin Solution as an aftershave or wax to reduce bumps on legs, underarms, bikini lines, chin, neck or face.

HAIR REMOVAL: Shave routine with razor blades or at home waxing kit or electrolysis and laser are all "surgical" procedures; tissue is torn or burned during any of this treatment. Apply thin coat of Tend Skin Solution after hair removal to reduce redness and bumps.

FACIAL TONER: Tend Skin Solution can also be used as an effective facial cleanser, also performs micro-peel and will make your skin glow as well as reduce appearance of wrinkles with regular use. Can also be used to remove tough stage makeup. Also works as an extremely effective deodorant.

CRUELTY FREE: No Animal Testing, supports a non-profit named Angels in Distress.