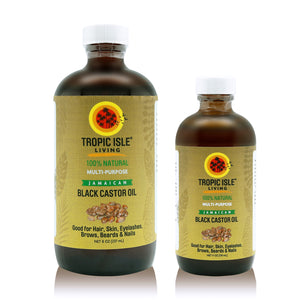 TROPIC ISLE LIVING Jamaican​ Black Castor Oil All Purpose Healing Oil
Stimulates hair growth
Cleanse scalp of parasites and toxins that damages hair and slows growth
Help repair dry damage hair and breakages
Protects hair with a protective coat that seals in moisture
Use as a hot oil treatment
Tropic Isle Living Jamaican Black Castor Oil is generally used as a hot oil treatment or hair grease for various hair problems: dry damaged hair, hair growth, thinning hair, split ends. Massage oil for aches and pain including arthritis and joint stiffness. And often used to moisturize skin, dry chapped feet, corns, calluses etc.
Black Castor Oil is a powerful all-purpose healing oil that came to Jamaica from West Africa where it was used in ancient times for medicinal and cosmetic purposes. Tropic Isle Living's all natural Jamaican Black Castor Oil is light to dark brown due to the tedious age old traditional process still used to make this brand.  Keep a bottle handy for  your hair and skin maintenance and healing, massage oil for aches and pain, a first aid for cuts, wounds and burns etc.
All Purpose Healing Oil
Moisturizes Hair and Skin
Promotes Healthy Hair
Great for Hot Oil Treatments
100% Natural
Organic and Hand Processed
Benefits : 
Use Tropic Isle Living Jamaican Black Castor Oil as a everyday hair oil or hot oil treatment for dry damage hair, split ends, poor hair growth and to detoxify the scalp including dandruff.
How to Use :
Hot Oil Treatment: Warm 3 tablespoons of the castor oil and massage into hair then put on heating cap for a half hour OR massage castor oil into hair, put on heating cap and sit under dryer for 10min. For Skin: Massage into skin to moisturize dry skin and to help relieve common skin problems. For Aches and Pains: Warm and massage into areas of discomfort for instant soothing. TIP: For added moisture: Add 3 tablespoons to a deep conditioner to add and seal in moisture for dry, permed and colored hair once a week. 
Ingredients : 
Pure Jamaican Black Castor Oil